Contacted in June 2017 by a family from the south of Paris, our architects renovated a residence with a total floor space of 315 m². This project required several months of work and coordination between 19 construction firms. We carried out renovation work on both the exterior and the interior of this exceptional property. Let us take you through all the work done.
RENOVATION OF A HOUSE BY METHODS STUDIO
The buyers of a mansion called on the services of our company in 2017 to carry out renovation work with them.The goal was to turn this vast property into a comfortable and modern family house in the countryside of Arpajon.
This interior of this bourgeois house was divided into many rooms and was in need of a major renovation. So the project consisted of modernizing the house and  restoring its splendor by revealing its generous interior volumes. The stones on the facade were cleaned and repointed. Furthermore, many interior walls were removed and the tiled floors were restored. 
INTERIOR RENOVATION
After having restored all its splendor to the facade of the house, we reworked the interior layout. The owners now enjoy a kitchen opening on to the dining room thanks to the installation of an industrial-style glass panel.
By opening up a load-bearing wall,we created a spacious living room that enjoys abundant natural light throughout the day as it faces three ways.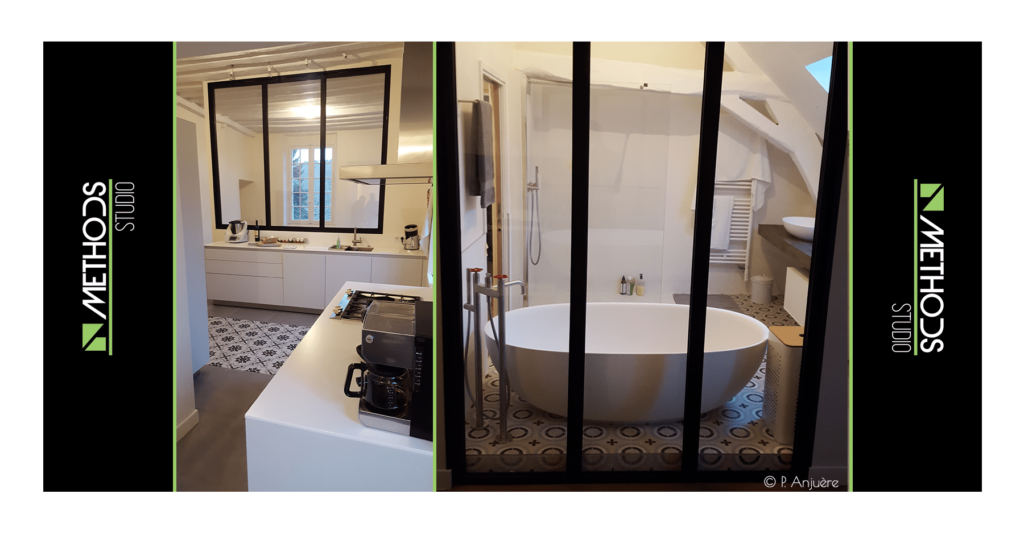 The floor, reconstituted in glass above an existing beam, now gives the initially dark entry hall more light. The trusses on the second floor have been exposed, adding character to the master bedroom as well as a beautiful high ceiling. The adjoining dressing room and bathroom are designed as box rooms that fit into the large volume thus created.
THE STUDIO METHODS GUARANTEE
For us, each step of this renovation project was important. From our first meeting to the handing over of the keys, we set out to satisfy the needs and desires of the couple who bought this residence. More than our skills as architects and interior designers,  it is our love of our work that enabled us to bring off this renovation project. We had the pleasure of accompanying the owners from A to Z, meeting their expectations while respecting the constraints imposed by this house.
If you too have a new home or renovation project, give us a call. We will be happy to make every effort to bring your project to fruition.
The Methods Studio team
Only when you are satisfied is our job done. follow us on LinkedIn
https://www.methods-studio.fr
Contact us at contact@methods-studio.fr